When you're a bar or restaurant owner in Austin, Texas, you want to be known for serving up ice cold glasses of beer every time. Making sure that your keg and bottle coolers -- also known as bar coolers or bar refrigerators -- are in tip-top shape needs to be high on your priority list. 512 Ice Machine provides 24/7 repair service to businesses in the Austin, Texas area, guaranteeing that if you have a problem with your keg and bottle coolers, you'll have someone to call on.
Serving a perfectly poured glass of beer is an art form that involves a number of factors, one of which is ensuring that you store the beer at the right temperature. Anything outside of that, you will run the risk of ruining your customers' drinking experience. So whether it's a power issue or a broken thermostat or a noisy unit, we're here to help you. Common issues with keg and bottle coolers include:
Thermostat issues
Power failure
Blown fuse
Dirty condenser
If you notice these problems, contact us for immediate assistance.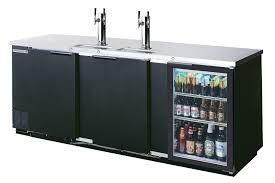 Services We Provide
Because our expert technicians specialize in refrigeration equipment, you can be sure that you are receiving comprehensive service from qualified technicians. But we're not just experts in keg and bottle coolers, we take pride in providing a full range of refrigeration repair and installation services to businesses across the Austin, Texas area, including extensive experience with ice machines, reach-in coolers and freezers, and other commercial refrigerating equipment.
How Important Is Regular Maintenance?
Keg and bottle coolers don't break overnight. Proper preventative maintenance can help extend the life of these appliances, as well as make sure each one is running efficiently, helping lower your energy bills. When your appliances are working the way they should, you can focus on what is most important -- taking care of your customers and growing your business. 512 Refrigeration Services in Austin works with you to maintain your keg and bottle coolers so that they continue to run properly.
Replacing Your Keg and Bottle Coolers
Sometimes proper maintenance is not enough to keep keg and bottle coolers operating are their best. When that happens, let 512 Refrigeration Services in Austin, TX help guide you to see what your options are and decide on a system that is right for you and your business.
512 Refrigeration Proudly Serves: