As a food service establishment, your food prep coolers and freezers are vital to your success. Whether you are preparing sandwiches for the lunch crowd or pan searing filet mignon for the dinner menu; your food prep cooler or freezer must work properly. Bacteria can quickly grow when you don't store meat, vegetables, and other perishables at the right temperature, so it's incredibly important to keep your equipment running perfectly all year round.
Because of this, the proper maintenance of your food prep coolers and freezers should be on the top of your to-do list. 512 Ice Machine provides 24/7 repair service to businesses in the Austin, Texas area, helping you face problems with your food prep coolers and freezers head-on at any time of the day.
Common issues with food prep coolers and freezers include:
Thermostat issues
Frost in the Freezer
Leaks from the application
Power issues
Damaged Door Hinges
Dirty condenser coils
If you notice these problems, contact us for immediate assistance.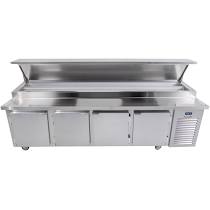 Services We Provide
Our expert technicians specialize in refrigeration equipment and are equipped to provide you with the comprehensive service you need when it comes to your food prep coolers and freezers. We take pride in providing a full range of refrigeration repair and installation services to businesses in Austin, Texas, including repair and maintenance services for ice machines, reach-in coolers and freezers, and other commercial refrigerating equipment. We're open 24/7, because we know no one ever knows when their commercial refrigeration equipment will decide to stop working. Just contact us, and we'll get on it right away.
How Important Is Regular Maintenance?
Emergency repairs can get expensive. And sometimes the problems are ones you could have prevented with regular proper maintenance. At 512 Refrigeration Services, we believe that proper preventative care of your food prep coolers and freezers are important. 512 Refrigeration Services in Austin works with you to maintain your food prep coolers and freezers so that they continue to run properly by helping you recognize issues that may lead to costly repairs down the road.
Replacing Your Food Prep Coolers and Freezers
When that happens 512 Refrigeration Services in Austin can guide you through your options, to help you decide on a system that is right for you and your business. Let set up some time to talk this week about your refrigeration needs.